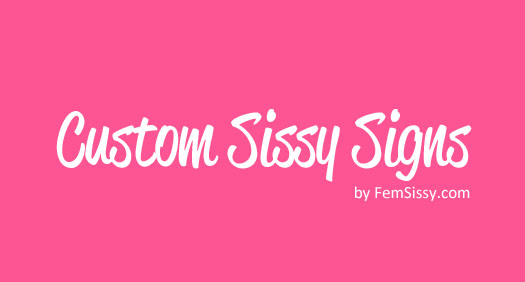 There's no hotter way to get the exposure you crave than with a custom sissy sign, caption, magazine cover or card made by FemSissy.com. Just imagine your pics splashed across the front of one while it floats around the internet with people sharing it with all their friends.
How to Get One
You have two options when it comes to getting your own.
Download the signs for free, add your pics, info and enjoy!
Have princess make it for you.
Have Princess Make it
Want me to put together your custom sign, card or magazine cover? No problem! Follow the steps below and get ready for some hotness.
Step 1: Send a tribute or payment using one of the methods below:
CashApp: $GJCM
Amazon GC: Princess@FemSissy.com or JenTribute@yahoo.com
Venmo: @GJCMM
Step 2: Select which sign, card or cover you'd like to use. You find all the sissy signs here and I'm always adding new ones so check back often if you want another one!
Step 3: Submit your pics and info below. After it's completed it'll be posted directly to this website for you to download and tweeted out by @itsfemsissy on twitter. Talk about a bonus feature!
Please Note: Put "Custom Sissy Sign" as the title of your submission below to get it posted live on Fem Sissy even faster!