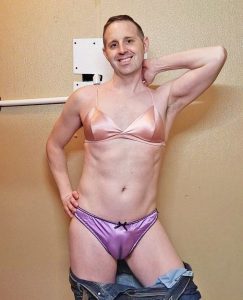 This is a moment I've been waiting for. After years of pretending to be Denver Shoemaker the man, it feels amazing to just open up, drop my pants and show the world who I really am.
So who am I? I'm a constantly horny cross dressing trans sissy that has a big fat juicy cameltoe in his panties!
Don't worry, you didn't read that wrong. I've always had an abnormally small clitoris (clitty) looking penis and after years of slowly transitioning into my true self, I now have a plump camel toe where my tiny useless bean sized penis you used to be.
I feel so liberated now knowing that the world can see my trans pussy mound and I can no longer hide from the fact I'm not a man with a real cock.
Here I am world. I'm Denver Shoemaker the pussy-free feminized trans sissy with a mega mound, that's aching for some buff studs to come and pound!