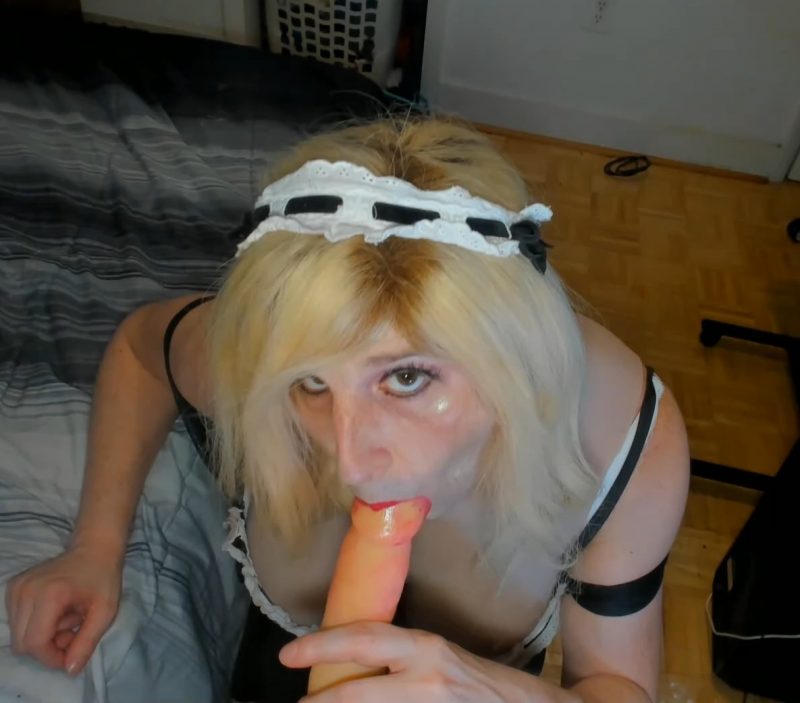 It all started as a bit of sissy fun. I'd dress up in a hot outfit and sometimes even play with some sex toys. Just fooling around a bit, when the girly side of Denver Shoemaker wanted to come out and play. I figured what's the big deal, I was just experimenting with my sissy fantasies. Typically I'd just flop my dildo around or even fiddle with a jeweled butt plug and it was no big deal. It's not like I was doing anything too hardcore.
Sure I'd feel ultra gay after my small feminine clit-like penis had a cummie but nothing crazy happened mentally or anything. That was until I made the mistake of performing oral sex on my realistic dildo. I went to town one night and just started giving it a blowjob. It was at a moment when I was just way too turned on from wearing some sexy maid lingerie and tiny little silky panties, it's not like I planned to give it some hot head or anything.
Literally I was wiggling around, giggling, bobbing on the big rubber boner, flicking my tongue against the tip and even licking all over the ball bag. It was like I was in a sissy dick sucker haze. Last I remembered was me moaning out, "OMG Denver Shoemaker you're such a boner loving sissy bitch," right as I was spurting my sparkly sissy dust everywhere.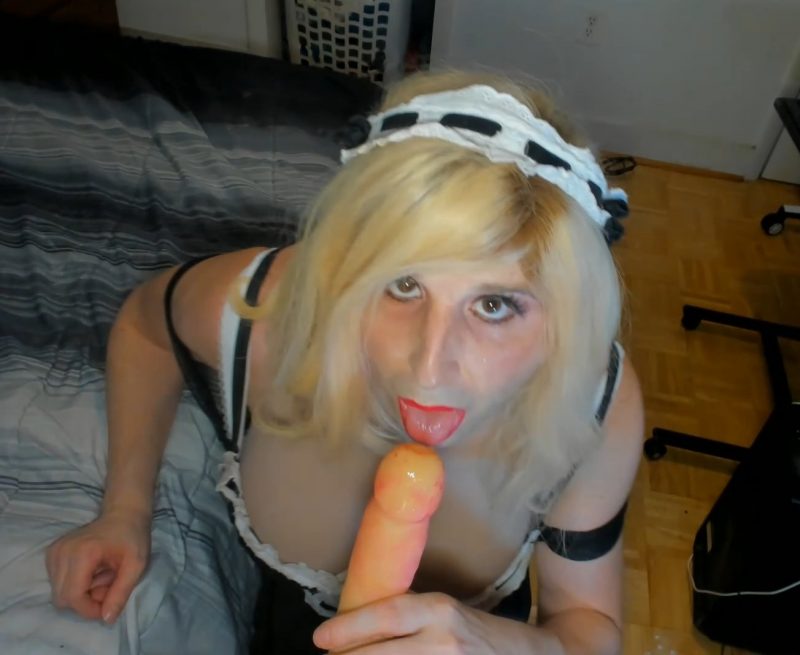 The days that followed were a whole other story. I found myself constantly thinking about big throbbing boners! It's almost like my mouth is actually craving a big fat juicy cock pumping inside of it now. The sissy blowjob bitch thoughts are taking over and they won't seem to go away.
All it took was one realistic feeling dildo sliding in my mouth for me to transform into a cock crazed nut sucker. I still can't believe this is happening to me. I'm even starting to want a big set of watermelon tits just so I can lure in more dicks to suck on.
– Denver Alana Shoemaker