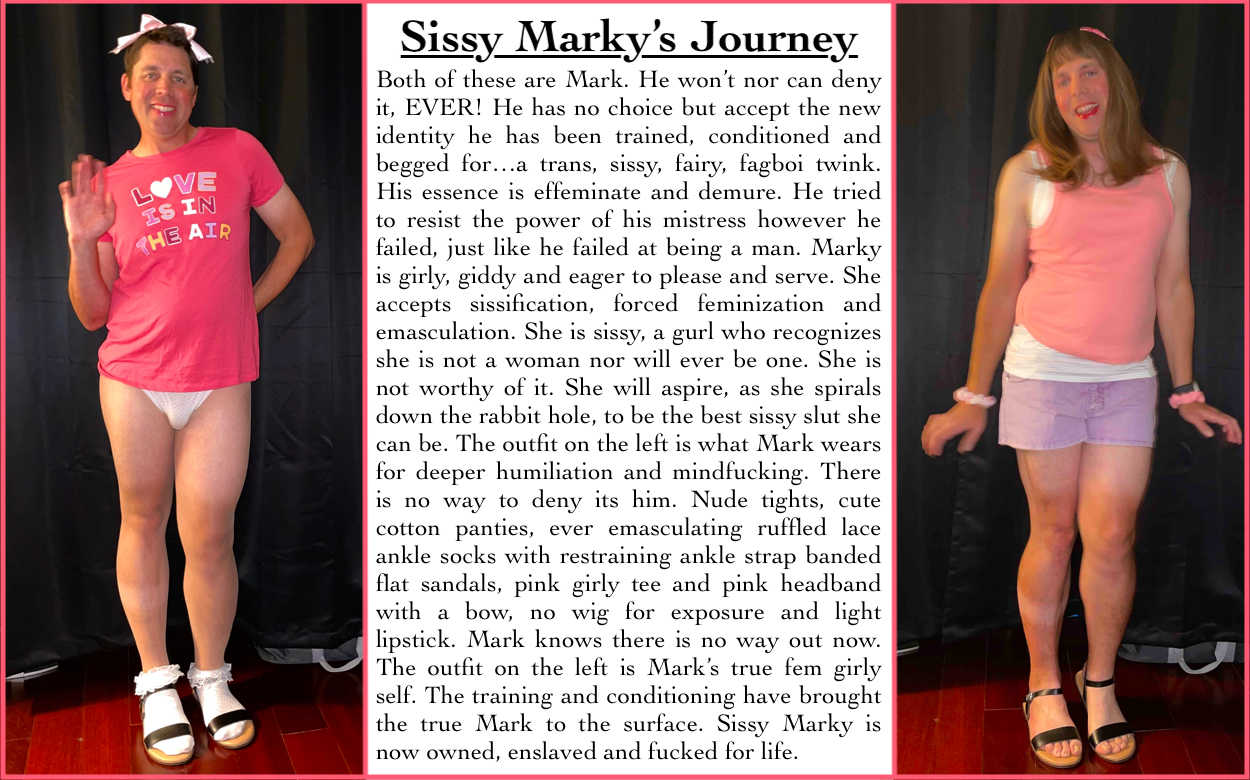 My sissy ass has a confession for my Goddess and humiliating story to tell. This all just part of my journey down the sissy rabbit hole of emasculation and feminization. My Goddess is training me to be the emasculated, effeminate, weak and obedient sissy slave that I am. I am submissive and want what you want me to want.
Sissy tasks are a thrill
It is a thrill and rush to be ordered to do sissy tasks. Being made to sleep in only my nude tights/pantyhose was very emasculating and made me feel weak and helpless. As I stripped off my pink girly tee, stepped out of my cute sandals and pulled off my ankle socks and panties, I felt a wave of excitement and total submissiveness.
I laid down and felt the slippery feeling of the nylon pantyhose on the sheets. I felt owned and weak doing as I was told and obeying you. I felt like a total twink boi. I woke up several times and was reminded as I moved how much control you have and how much conditioning I have undergone to be this way.
Craving nylons and pantyhose
I have never been turned on by nylons specifically but now, coupled with newest twink uniform and potential to be out in public in them, I craved them. My thoughts wandered to the full time dress and comments from earlier and I slipped further down the sissy rabbit hole.
Waking up feeling vulnerable, feminine, submissive and owned was hot but also embarrassing and shameful. I have been spiraling all day. The complete feeling of obedience was felt when you asked if I wanted to wear them to bed and I intended to wear them with a nightie but when you said nothing else was to be worn with them, I immediately felt the sting of slavery.
Sissy obedience
I can do nothing but comply or face the sting of exposure, punishment, etc. I was grateful for your decision and making me follow through as it makes me fall deeper into submission and accept this more fully.
Those pantyhose made me so much weak and vulnerable and willing to be go deeper. I want to wear them a lot and need to wear them to bed often. I totes need to be made to wear girly things to bed and show proof or face punishment. It breaks me so completely.
Spiraling deeper down the rabbit hole
I loved feeling so right and gay and girly in bed in my pantyhose. It felt right having to obey you and accept my place as your trans sissy bitch slave. I felt right to wear pantyhose and now I am needing them more and more. I couldn't stop thinking about adding lil' short shorts to my twink uniform with the pantyhose and then taking a trip to the porn store.
Spiraling out of control daily now and will be doing more and more now that you own me completely.